Create a collection
Limited Edition – Kris Masterson Action Figure $29.95
Treasure Box with Map: $9.95
Collectors Edition Brass Compass: $99.95
The Christmas Pirate T-Shirt: $9.95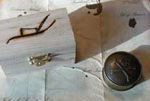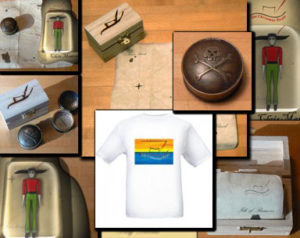 Check out the TV show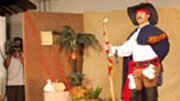 Have you ever wanted to be part of a program where children benefit? The Christmas Pirate TV show was developed to help children by providing alternative ideas to build and create. The first episode showed children how to make a shell necklace by themselves. Recorded in Warren, Michigan the program has aired continuously with great success. Ideally all products made on the show is to be donated to children's hospitals or other venues where children need assistance, and also to brighten their day.
The Christmas Pirate– free Audio Book
Each episode would be focused on low cost initiatives where children can be creative. In today's world it is great to have something that most children can achieve without the need of expensive gadgets. From making paper boats to sail in a bathtub to making their own treasure maps to use in their own home are simple yet very creative ideas that spur on the imagination. Even Albert Einstein had to imagine to reach beyond what was known during his day to come up with incredible theories.
Ideally The Christmas Pirate TV show produced year round would create various projects and items that would be ultimately donated to children in need. If you would like to find out more, or get involved email info@magneticimageinc.com.
Want more information about The Christmas PirateⓇ
contact us at (248) 214-0211
Read the story for free
by downloading a copy today
CLICK HERE